Expansion is a significant growing pain but also an indicator of success for a small technology company.  After taking on many new projects and hiring top notch team members, we soon realized that one of the downsides of our success and the rapid growth of our engineering team was outgrowing our small office and laboratory.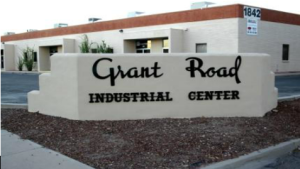 After months of searching for the perfect place to house our company, we are happy to announce we have settled into our new office and manufacturing lab. Located at 1842 W Grant Rd, Suite 102 Marcus Engineering can produce rapid prototypes for electronics and light mechanical designs.
"It was a tough prospect," said Marcus Engineering President, Dr. Patrick Marcus. "We had to balance overhead costs, ample space to expand, efficient use of space, and creating a comfortable work environment that employees enjoy and customers love to visit while finding the space to house the top talent we are bringing into Marcus Engineering."
The UofA students certainly seem to like the new offices.  "It's really fun to be part of a move and setting up an expansion.  I'm glad I could be part of it," said Tam Nguyen a University of Arizona Biomedical Engineering intern with Marcus Engineering.  "A short trip from the University to get some real experience is pretty cool," says Tam.

Tam Nguyen is an intern at Marcus Engineering. She is currently a student at the University of Arizona studying bio medical engineering, graduating in May 2014.