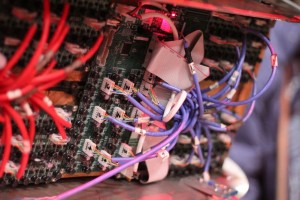 Brandon Park in Pennsylvania was chosen by Facebook users  to undergo extensive renovations in hopes of advancing the city of Lancaster's "green infrastructure" plans. The park was in shambles with broken pavement and overgrown bushes. Brandon Park received the most votes on a Facebook poll for park renovations, awarding the park with funds from Coca-Cola and LeBron James. As part of the renovations, the Lancaster's Public Art Advisory Board choose to implement the the abstract, Revolutions art sculpture designed by Steven Fairfield, Emily Taylor and Dr. Patrick Marcus.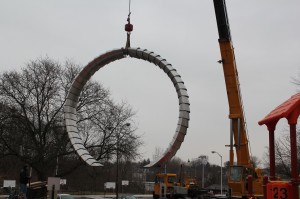 Marcus Engineering has partnered with Solar Sculptures to create the illuminated and interactive sculpture at Lancaster's Brandon Park, named Revolutions. The artwork is up for interpretation; sparking interest and curiosity. The sculpture has 300 LEDs that are in an energy saving mode until it "senses" someone approaching, in which case the lights brighten up and react to changes in directions and other movements. Locals who have grown up in the area welcome the upgrade; expressing its "cool factor".  A local article that was published during the construction of the sculpture at Brandon Park. A video of the action can be accessed here.

Tam Nguyen is an intern at Marcus Engineering. She is currently a student at the University of Arizona studying bio medical engineering, graduating in May 2014.